Corvette 427 Big-Block
Back in 1966, Chevrolet decided to get innovated and give the public something they have been craving – a small sports car with a huge motor. The Corvette was elected to introduce the upgrade that started a revolution of cars that would be labeled "Muscle Cars."
Making the 396 Bigger
Chevrolet created a feasible 427 cu.-in. motor for the Vette by taking the already powerful Chevrolet 396 cu.-in. motors and machining the bore and stretching the stroke of the block to a larger 427 cu.-in. This is the same way the legendary Chevrolet 327 cu.-in. engine came about. The Corvette's original 289 block was bored and stroked to a 327.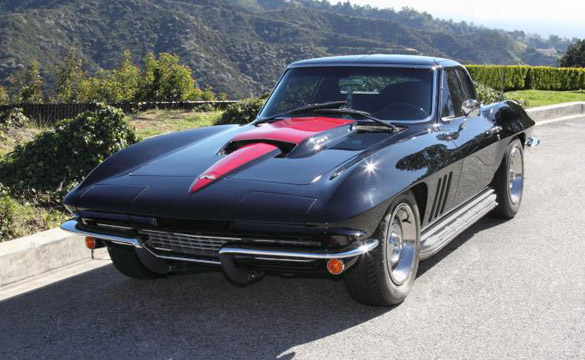 Big Block Hood
427 Big-Block Engines Were Available in Two Versions:
L36 390 horsepower

L72 425 horsepower
Both engines were available choices given to consumers when ordering a Vette, and both engines performed sensationally depending on what kind of fun you were looking to have.
The Extra Cost for the 427 Big-Block
The lower output L36: $185.00 Extra
The higher output L72: $350.00 Extra
What
Came With The High Output L72
The extra cost for the L72 would get you a better-structured motor that included:
Four-bolt mains
Larger oil fitting ports
Impact-extruded aluminum pistons (11.0:1) compression
More aggressive solid lifter camshaft

Larger rectangular port cylinder heads

Aluminum intake
Holly 780 CFM carburetor
Free-flowing exhaust manifolds
And a K66 transistorized ignition to help complement the other higher output parts.
Although the L72 was rated at a massive 425-hp, it was a well-known fact the actual horsepower output was well above that publicized rating. The reason for Chevrolet's deception on horsepower numbers was to avoid unwanted backlash from the safety legislation.


A Pleasing Power-to-Weight Ratio
The 427 big-block Chevrolet motors were a tight fit for the Corvette, but the power-to-weight ratio was very pleasing for speed freaks. Plus, the much cooler big-block hood that came with the Corvette to make room for clearance, told people what was under the hood.

Chevrolet would spend about six more years using a big-block powerplant with balls as an option for Corvette consumers.
All Good Things Must Come to an End!
After 1972, the change to bring about more fuel-efficient cars would change what kind of powerplants all muscle cars would receive. This new change would eventually spawn the end of an era, the "Muscle Car" era.

Small-block 350s de-tuned and ready to do poor performance was what the American car enthusiast would have to put up with for power through the '70s and '80s. In the late '80s and early '90s, change for more power started up again, and since then, there hasn't been much reason to complain.
The scary acronym EFI (Electronic Fuel Injection) has become a household name for all vehicle enthusiasts alike. And boosted and nitrous applications seem to run much better turned by a computer rather than by backyard mechanic techniques.