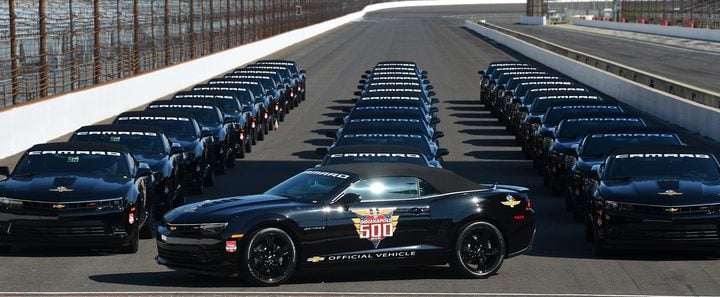 By now we should all know that the unveiling of the 2016 Camaro will come in the month of April at Belle Isle, but will the Camaro see a little more action than what Chevrolet is leading on to. Chevrolet's Camaro has never been a stranger to being a pace car at the Indianapolis 500 and this year probably won't be no different.
The Camaro started as a pace car in 1967 and than added to their resume in 1969 with a Camaro SS; 1982 Indy used the Z/28 as a pace car and also in 1993. Camaro continued the tradition in 2009 and 2010 with a Camaro SS, and than followed up in 2011 and 2014 with some more Camaro Z/28 action.
With all of this media hype that is surrounding the new Camaro, I don't see why they would stop the trend now. This would be a perfect way to keep the Camaro topic hot in May after their unveiling in April. Lots of speculation has been talked about in the last few weeks, some of it is just -- would, coulds and maybes, but one thing is for sure the Camaro will come with a powerful enough V-8 to be respected as an Indianapolis 500 Pace Car.
So where is this speculation coming from, according to Camaro.com, an insider close to the GM Lansing Grand River Assembly plant's operations, where the Camaro will be built, dropped a few hints to auto evolution, and according to Camaro.com if you read between the lines, an Indianapolis 500 -- 2016 Camaro Pace Car sounds like something that could definitely happen.