The Last Corvette Pulled From the Sinkhole at the Bowling Green Kentucky Corvette Museum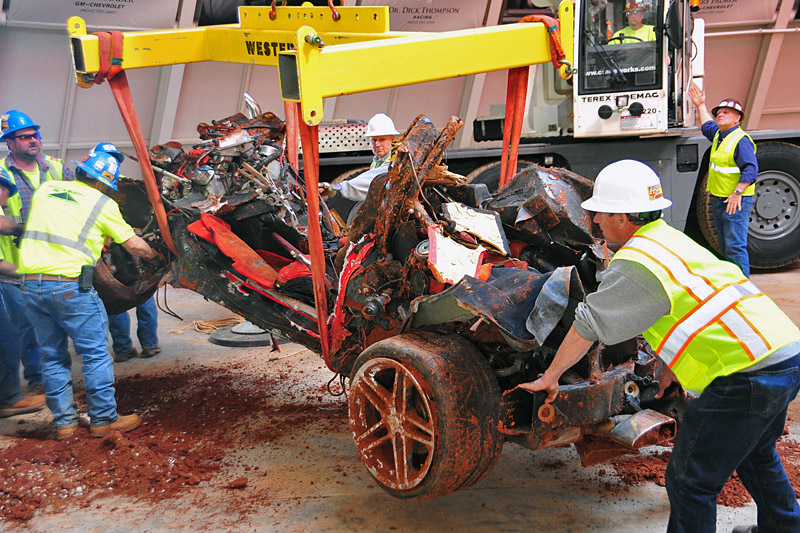 It was a sad looking piece of crumbled up steel when this
Corvette
was pulled from the sinkhole. What was once a red customized Vette that was fitted with a roll-bar, no longer resembled its original form.
Kevin and Linda Helmintoller were the original owners of the vehicle and spent 10 years customizing it before donating it to the Corvette Museum just a few months earlier before the sinkhole incident. Although General Motors executives have said that all eight Corvettes would be restored back to their original condition, this last one may be the exception.
When Kevin Helmintoller found out it was time for the
Mallett Hammer Corvette
to be retrieved, he drove up from Florida to witness it and told the museum staff this, "I expected bad, but it's 100 times worse ...... it looks like a piece of tin foil... and it had a roll cage in it! It makes all the other cars look like they're brand new."
So what will
Corvette
do to restore this particular victim of the collapsed sinkhole? Probably nothing, they will probably keep the last vehicle as a reminder of the horrible accident that occurred that day. Never the less, all eight Corvettes that were damaged in the wreckage will be on display at the museum through the month of August.