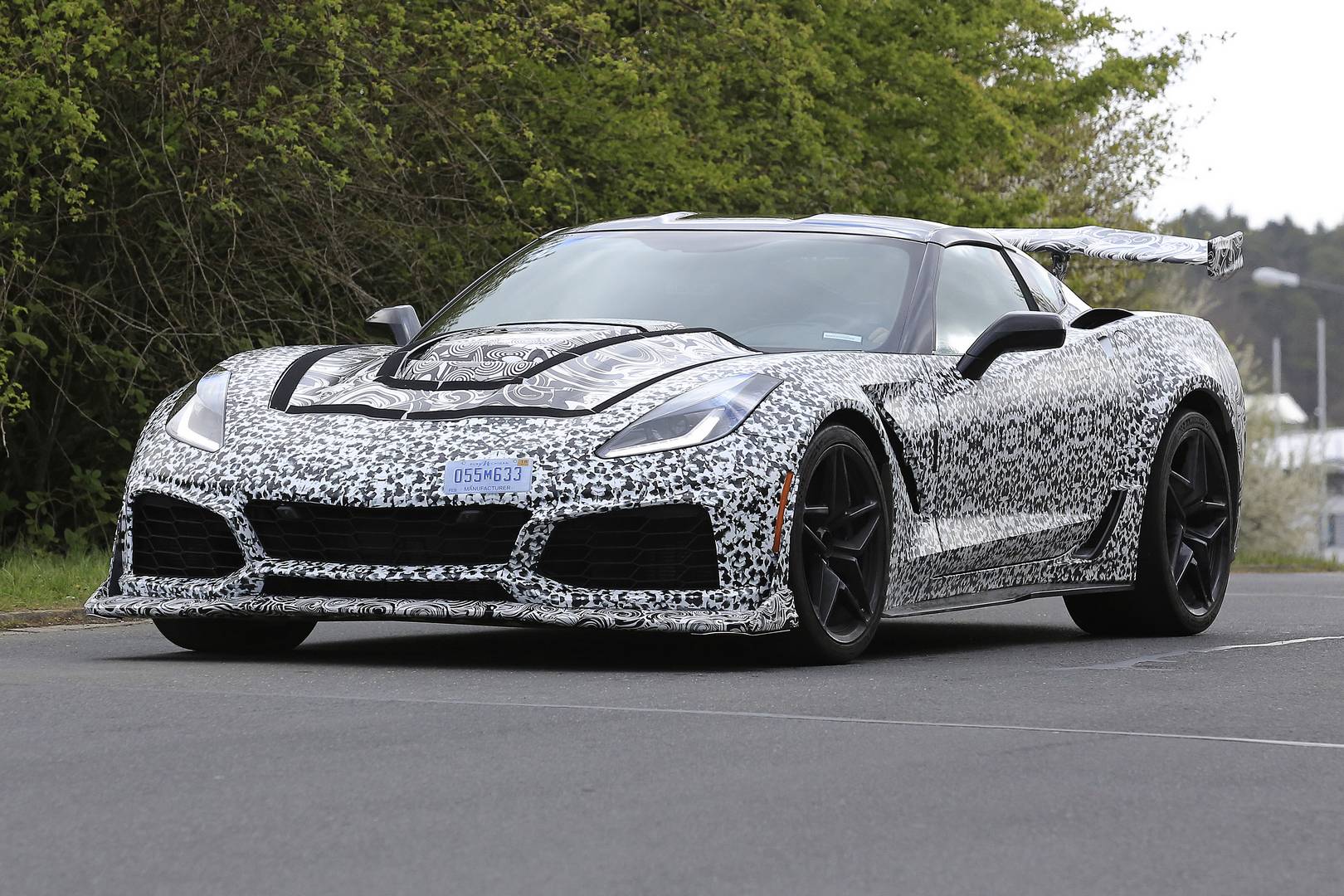 Nothing is ever set in stone when it comes to a prototype that has only been seen in camouflage, but as far as the ZR1 is concerned, we know that it exists, and more and more about it leaks out every week. It should come as no surprise that although the Z06 is probably the baddest American sports car on sale to date, the 2018 Corvette ZR1 will be just that much more badass.
One of the stretched out rumors that has just about come confirmed now is that the ZR1 will be receiving a supercharged LT5 overhead cam powerplant. Amongst the whispers about it for the last year from just about everyone, there are also other indicators. For instance, the massive tall hood is taller than any other hood that Corvette has ever used. This room the hood provides is needed since an overhead cam setup is much taller than an in-block cam engine. The supercharger is a no-brainer when you hear the Corvette drive around the Nurburgring track, the unmistakable whine gives it away.
The other change that the video will show - believe or not - there will probably be an automatic option for the new ZR1 Corvette. When you hear the Vette whipping around the track, there is no doubt that the up and down shifts are so quick and precise that it's not something that can be replicated by a human hand. What kind of automatic will be offered? Probably the 10-speed automatic that is offered along with the ZL1 Camaro.
Exterior options seem like they're going to be broaden this time as well. In an attempt to bring in more sales, it's highly speculated that there will be a convertible option. A lot of Corvette enthusiast may hate this idea, but the convertibles that Corvette has on the market now are extremely stiff and capable of handling a lot of power and tough cornering. It looks like there will be two different spoiler options, a bigger front splitter option and a few other hidden aerodynamic upgrades that are concealed by the camouflage. The reason for the different and bigger spoiler and spittler options could be because Corvette is in the works for a 1LE option like they have introduced on the ZL1.
When can we expect a debut date? That's still unknown, but as time goes on, we will probably hear and see more of the 2018 Corvette ZR1 assuming they'll have to take it out for more and more test runs. There is a rumor out there - restated by Road & Track - there is a strong possibility that it will be unveiled at the National Corvette Museum.
Whatever the case, I hope it's soon.