Hennessey Performance has spent more than the last 20 years putting on performance kits that perform on a whole other level for General Motors and many others companies. Recently they have showed off two more of their projects that will be available to General Motors' fans for 2015.
2015 Cadillac Escalade HPE550
- 557hp 542 ft-lb torque
2015 Chevrolet SS HPE1000
- 1,000hp @ 6,300 rpms
The Escalade
The
2015 Escalade
comes with a stock 6.2L V-8
EcoTec3
with 420hp and 460 ft-lb torque. Hennessey changes all that with a supercharged intercooler system with tweaked engine-management software. The 557hp it will then produce is pretty impressive since the supercharger only boast a modest 6.0psi. An optional up-grade for this project is H10 20 inch rims and tires which will set you back an extra $6,950.
Although, the Escalade is what Hennessey uses to promote this high-performance package, John Hennessey assures that any 2015 model that is equipped with the 6.2L V-8
EcoTec3 motor will have the option of having the HPE550 installed including:
2015 GMC Yukon Denali and Yukon Denali XL and 2014-2015 GMC Sierra and Chevrolet Silverado.
If you already own one of these vehicles you can contact Hennessey and have the HPE550 package installed or if you want one turn-key, you can have the performance packaged ordered through participating dealerships. The package will set you back $15, 950 with a
3-year or 36,000-mile warranty.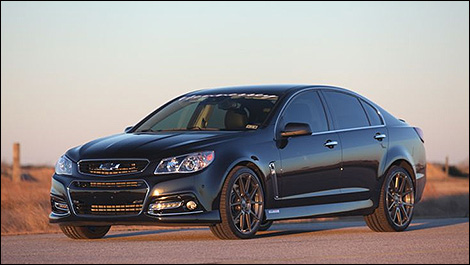 The Chevrolet SS
This four door sedan comes stock with a 415hp 6.2L V-8 which makes it an already fun little car to drive. But if you choose to have
Hennessey
work their magic and put a HPE1000 performance kit on it you will have more than enough power to call your experience fun.
Hennessey starts out with twin turbos, a new intake, headers, a high flow catalytic converter and a new ECU to produce at least 1000hp. To put up with that power they add an up-graded suspension, exhaust, brakes and a choice of a 6-speed manual transmission conversion or a high-performance rebuild with torque converter on your existing automatic.
Also some cosmetic up-grades include individual numbering dashboard, an Alcantara wrapped steering wheel, new wheels, and custom carbon fiber aero features.
You can expect to pay about $20,000 for the HPE1000 performance-package with a 12,000 mile warranty. But if that power and the money is too much for you to swallow, Hennessey has more reasonable packages including: HPE475, 550, 600, 650, and 800.
Hennessey
Hennessey
has proven for over 20 years that when it comes to performance and technology they are No. 1 in the industry. They have dealt with GM cars since their beginning and continue to make impressive mile-stones with every vehicle they produce.